Rules and Safety
Cool River specific rules for guests are:
There must be someone over the age of 18 to sign up for tubing. If you will not have anyone over the age of 18 to sign for you, you must bring a signed waiver.
Children must be 3 years old to tube. We do not allow any children under, even if they ride on the lap of an adult.
Children 12 and under must take a life-jacket.
Children must be at least 42" tall to do the waterslide.
Picnic areas are for paying customers only. They are available on a first-come, first-served basis.
To get the group rate, a party must pay together in one payment.
Download our waiver and sign beforehand if there is no one in your party that is 18 or older.
The following rules are enforced by the City of Helen.
It is unlawful for any person to use or possess any cooler or drink container, either in or upon the Chattahoochee River within city limits. (cups, bottles, cans, etc.)*
No glass allowed.
No littering — pack out all trash.
No coolers.
Respect other river users. (fisherman, kayakers, waders, etc.)
Respect private property.
No nudity.
No alcohol.
Avoid standing or walking on the river bank or river bed.
The Helen P.D. does patrol the river. If you are seen breaking any of these rules, especially littering or taking a cooler, you will be fined. *Each tuber may take one 32 oz. drink container with them. We don't want anyone to dehydrate, but please don't litter.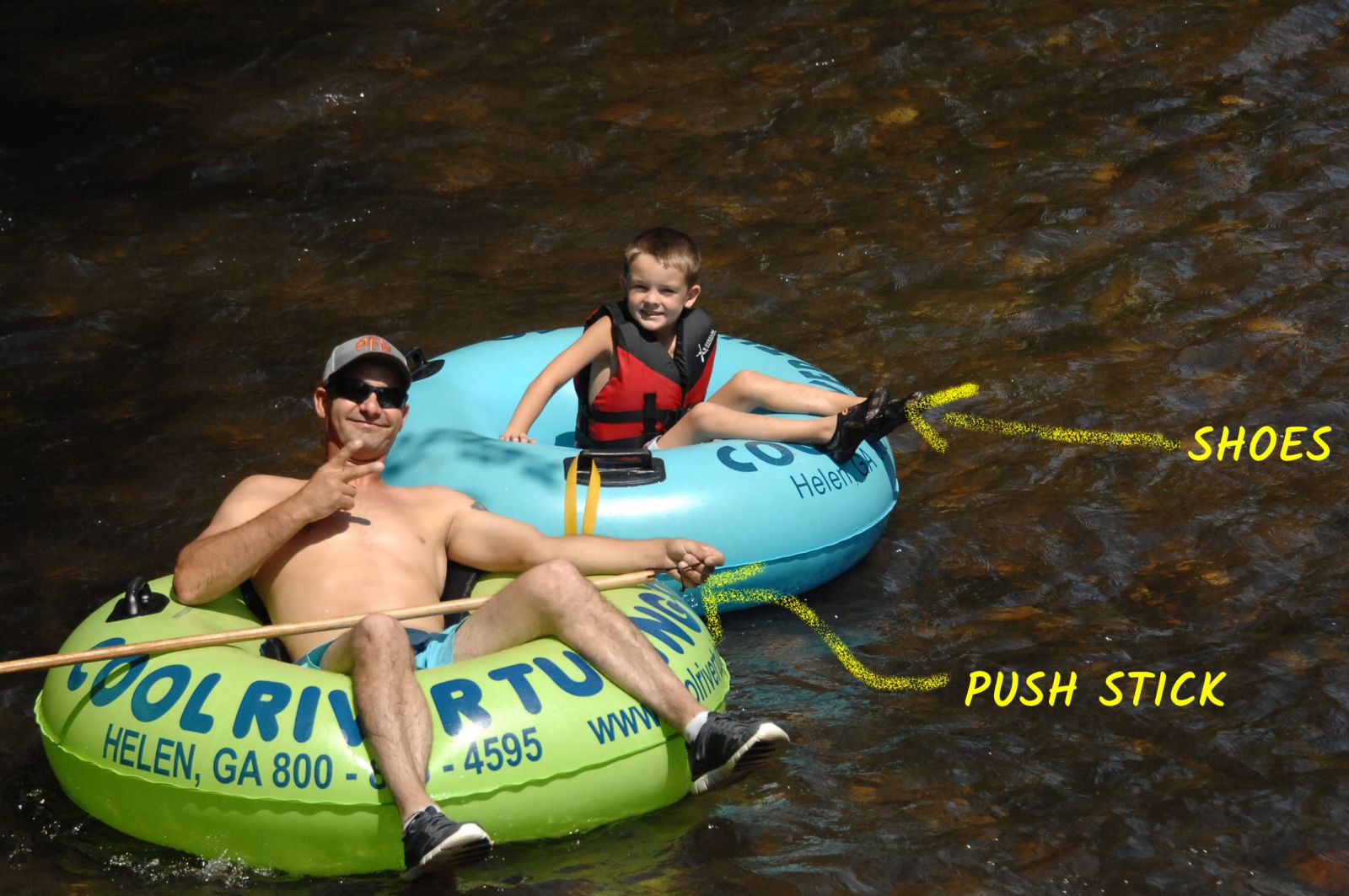 WE RECOMMEND YOU:
TAKE A PUSH STICK
A push stick helps you keep off rocks and away from the banks. We sell push sticks for $5. You're welcome to bring your own, but people often like that ours double as souvenirs.
WEAR SHOES
There can be fish-hooks, sharp rocks, and glass in the river bed. Shoes with backs are best; flip-flops are not allowed because they tend to wander away. We sell water shoes for $12.
DON'T TAKE KEYS OR VALUABLES ON THE RIVER
You will get wet and things are extremely easy to lose in the river. You can either lock your things in your car and leave your ID and keys with us (a free service) or you can rent a locker for $3.
HELP US KEEP THE RIVER CLEAN - BRING YOUR BOTTLE!
THE LAST POINT IS IMPORTANT: OUTDOOR RECREATORS PLAY A ROLE IN PROTECTING AND ADVOCATING FOR CLEAN WATER.
Every week of every summer, Cool River staff gathers trash from Helen's strip of river and its banks. Trash is left by picnickers, campers, fishermen, and kayakers. To our dismay, some tubers still leave trash. Please don't be a part of this problem! Don't bring disposables to the river.